Montgomery, Ala. – On Wednesday, February 1, 2017, the Montgomery Best Businesses selection group chose Always Money™ as the sole recipient of the 2016 Montgomery Best Businesses Award in the Check Cashing/Payday Loans category.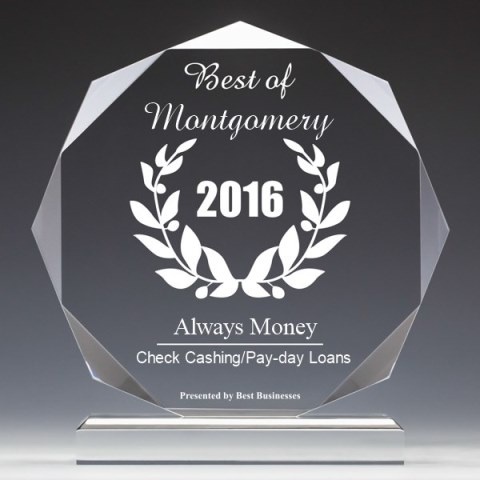 Each year, the Best Businesses of Montgomery Award Program recognizes the small business community's contributions to the U.S. economy and identifies companies that enhance the positive image of small business through service to their customers and community.
Only one winner is selected within each category. Recognition is given to companies that have shown the ability to use their best practices and who have implemented programs to generate competitive advantages and long-term value. This is the second time since 2014 that Always Money has been selected for this award.
"We know that everyone has different needs and different resources and that's why we offer a variety of loan products to ensure there's one for everyone. Here at Always Money, we want our customers, neighbors and friends to know they can get cash when they need it to help resolve their short-term financial needs," said Frank Evans, company founder and CEO.
Always Money is based in Montgomery, Ala, and over the last 20 years, has become a regional leader in affordable short-term credit solutions by providing various personal loans and other related services throughout Alabama, South Carolina, and Mississippi.
To learn more about Always Money and the services provided, please visit alwaysmoney.com or call to speak to a live representative at 1-855-GO-ALWAYS (462-5929).
To get started,
You may also like: How does a payday loan work?