So you need a loan, and you need it now. Money is tight, the kids all need money for school, you just got hit with a high power bill, and to top it all off now your car is in need of repair! What are you going to do?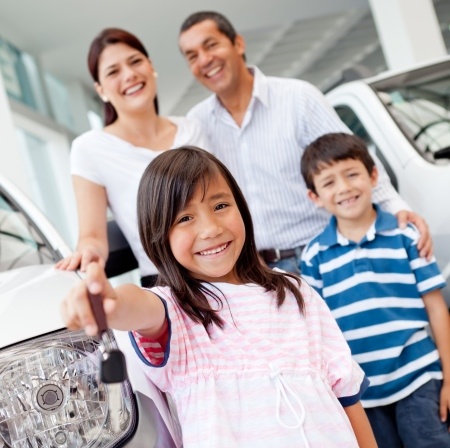 Every now and then, there seems to be something to easily tip your budget and you find yourself needing a loan. But how do you know which loan you should get?
Choosing the loan type that works best for you will depend on a number of factors. To help point you in the right direction, we're equipping you with the questions below which you should ask yourself in order to help you choose the loan type (and lender) that best fits your unique financial situation.
What kind of credit history do you have?
Your credit history lets lenders know how likely you are to pay them back. If you do not know your credit score or credit history, it can be viewed for free on http://www.annualcreditreport.com. Your credit history is usually your track record for making on-time payments. It tells lenders whether you usually borrow responsibly or if you have a history of negligence and borrowing more than you can handle.
"Good credit". If you have a good credit score of 720 or higher, then not only do you have more options to choose from when it comes to lenders, but you are also in a position to receive (or negotiate) better interest rates when you need to borrow money. With a score in this range, you are able to shop around for various loan options available to you. Scores above 740 are ideal for the best rates on mortgage loans. Scores above 780 get the best rates on auto loans (usually between 2.6 -3.4% according to data on bankrate.com) compared to those with scores around the 600 range who get charged over 15.7% interest for used cars.
"Average credit". If your score is 640-720, then your interest rate may be slightly higher for the same loans that may be offered to those with good credit. Usually borrowers with scores that fall in this range are eligible for personal loans, installment loans, and various short-term loans, and are usually eligible to borrow more money with more time to repay than those with lower scores.
"Bad credit or no credit". Any score below 640, and you may have a tougher time receiving any unsecured personal loans, mortgages, or new vehicle loans. However, you usually do still have the option of borrowing from payday lenders or getting a secured loan such as an auto or title secured loan or even a pawn loan to name a few.
With scores below 640—or maybe you don't have a score at all because you are young and never had to borrow—you will find that you still need to prove to lenders on paper that you're a responsible borrower and that you will repay you loan in a timely fashion. For this reason, you may not be able to borrow from a bank and you will need to use collateral to secure your loan or consider an alternative loan, such as a payday lender or companies such as Always Money Finance that offers a wide range of products such as cash advances, installment loans or auto title loans.
What the loan is for?
The purpose of why you need the money can also help point you in the right direction of which lenders you should call. Most item purchases will have in-house financing or have credit options available, such as when you need money for a car, boat, house, furniture, or jewelry. If you are trying to consolidate your bills or cover the costs of an unexpected expense, you may want to consider what short-term loan options seem to best fit your needs.
How much you need?
Before you can determine which loan option works best for you, you have to figure out how much money you need. Various loan options have different loan limits and eligibility requirements. For example, if you are interested in getting a personal loan or installment loan, depending on where you go, you may find that there is a loan limit up to $15,000 and repayment terms up to 12 months. Title pawn loans usually have similar loan limits, but are expected to be repaid in 30 days. While payday loans or cash advances are more state specific and are expected to be repaid in 2-4 weeks (or on your next payday). In Alabama, payday loans are limited to $500.
How long do you think you need to pay it back?
Two common mistakes people make when borrowing money is borrowing too much and having trouble paying it back, or borrowing too little and still finding themselves in a financial rut. If you think you'll need more money and more time to pay back the loan, then consider looking into a personal or installment loan. If you have a plan to repay the loan within a month, then you may find that a loan with a shorter term works out best for you. Credit cards are different. They are revolving loans, which means you may repay what you borrow over time, which can extend your pay off indefinitely or pay it off in full at one time.
Be realistic, and make sure to budget paying your loan back. Do not borrow more than you need.
See also: 5 quick ways to pay off your debt
Do you have collateral to secure your loan? (i.e. home equity, jewelry, car title, etc.)
Collateral can be a powerful tool in the lending world. The purpose of collateral is to allow the lender to secure his investment with an item or items you own in order to cover the amount of money you borrow. Collateral can even allow you the ability to have lower interest rates on personal loans. For example, if you borrow $2,000 with a motor vehicle title used as collateral, then interest rates are usually somewhat lower (but again, the rate you are offered will depend on your credit history). However, if after the agreed upon terms, you fail to pay back what you borrowed, then the lender is legally able to pick up your vehicle and sell it to recoup the money they lost from the loan.
With a home equity loan, it is okay to still owe money on your mortgage. As you pay down the principle balance of your home, or if you have made renovations that have increased the value of your property, you are building equity on your home. The equity is the difference between the appraised value of your home and what you owe. You may opt to borrow a percentage of the equity through what's called a home equity loan.
All in all, finding which loan type works best takes into account a number of determining factors that are unique to your financial situation, why you need the loan, and how you plan to repay. There is help available for almost any need. However, you want to be sure to have a plan in place to reach your end-goal and remain in good or better financial shape. If you have more questions about chosing a loan type or if you would like to speak with a lender that best fits your unique financial situation, look to Always Money - where they always find a way to help you.
For over 20 years, Always Money Finance has been a regional leader in providing affordable credit solutions to customers across the southeast looking for a convenient and confidential way to meet their needs. Getting a handle on your money takes time, and Always Money understands. If you're in a jam and need immediate help, any of Always Money's small personal loan options may be just what you need to get you going in the right direction.
To get started,